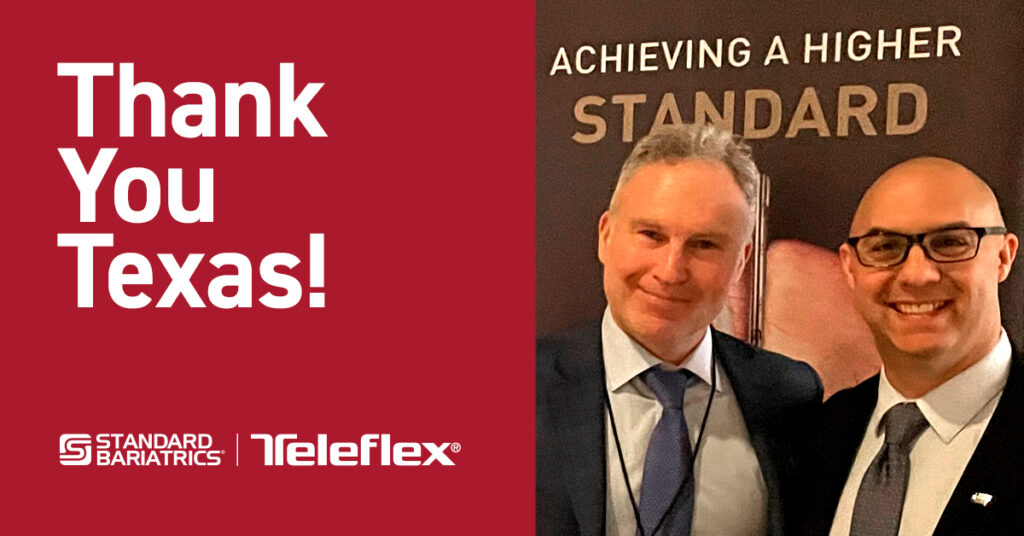 What a great weekend at the Texas Association of Bariatric Surgery 2023 annual meeting where we met bariatric specialists and answered their questions about the benefits of the Titan SGS® powered stapling device.
A Platinum sponsor, we were honored to have both Aaron Hoffman, MD, FACS, and Richard Peterson, MD, affiliated with Standard Bariatrics® | Teleflex® at the event. Dr. Hoffman, the first surgeon to use Titan SGS following its indication for use, was on hand to talk with surgeons. Dr. Richard Peterson, a Titan SGS proctor, presented "The Anatomy Based Approach to Sleeve Gastrectomy."
Attendees included Bob Falzone, Market Development Manager; Tim Lufkin, Vice President of Sales – Surgical; Chris Nelson, Regional Sales Director; Justin Clements, Clinical Medical Affairs; Chris Imler, Senior Account Manager; and Tom Moore, Division Surgical Inside Sales Representative.
You can learn more or request training about Titan SGS and its elegant approach to sleeve gastrectomy at standardbariatrics.com.