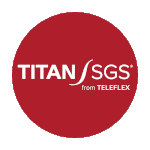 ONE Device.
ONE Staple Line.

TEN THOUSAND procedures1 and counting.
Teleflex is proud to announce that over 10,000 bariatric procedures have been completed using the Titan SGS™ Stapler.
Titan SGS™ Stapler is a 23cm, single-fire stapler designed to deliver more consistent and symmetrical sleeve anatomy by enabling the Standard Sleeve™, an anatomy-based approach to sleeve gastrectomy.
1Data on file. Teleflex Incorporated.
Teleflex welcomes you to join the community of Titan SGS™ Stapler users.
Visit our education site to learn more about Titan SGS™ Stapler, the only stapler commercially available in the U.S. with a specific indication for sleeve pouch creation in bariatric procedures. Gain insights for enhancing your surgical technique for sleeve gastrectomy including:
Clinical education including FREE online training on Titan SGS™ Stapler and Standard Sleeve™ technique.
Procedure observations and proctoring opportunities.
Clinical resources including surgical videos of Titan SGS users, IFUs, and clinical papers, presentations and posters.